Vectis Radio Radio Academy Nominee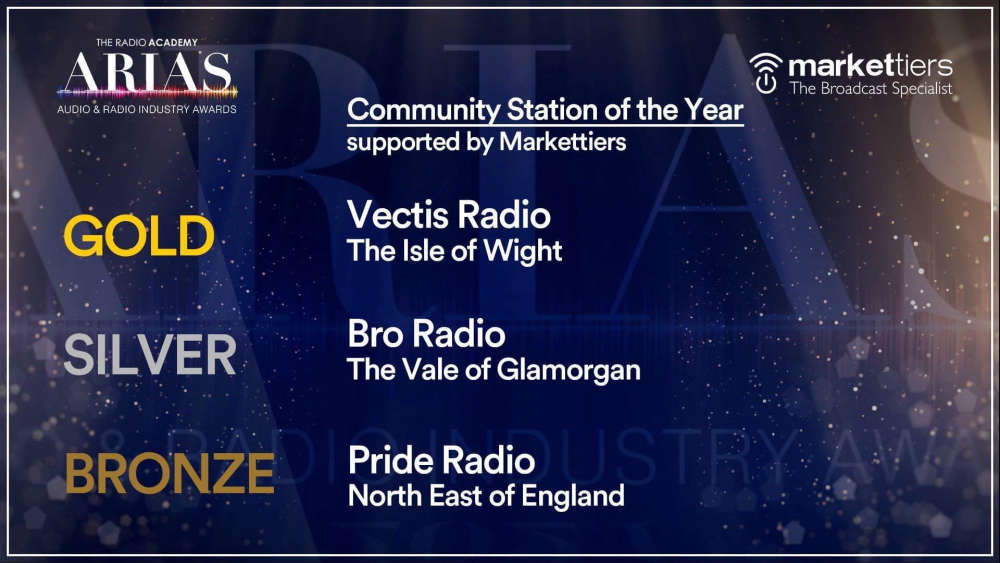 The winners of the 2023 Audio & Radio Industry Awards have been unveiled at the ceremony in London
Hosted by Rylan, with Fleur East and a host of guest award presenters, the winners of Gold, Silver and Bronze were announced in front of a packed audience at London's Theatre Royal Drury Lane.
Highlights of the ceremony will be available in The Radio Academy Podcast, from Thursday morning.
Congratulations to all the nominees and winners, and thank you for a fantastic evening celebrating all that's great about audio and radio.
Best New Presenter, supported by Insanity Group
GOLD: Zak and Jules - Life After Prison podcast

SILVER: Harriet Rose - KISS FM UK

BRONZE: Alyx Holcombe - BBC Introducing Rock on Radio 1

Nominated: Alex Kapranos - Absolute Radio

Nominated: Dan Jones - This Is History podcast

Nominated: Kathy Burke - Where There's a Will There's A Wake podcast

Nominated: Marianna Spring - BBC Sounds and Radio 4

Nominated: Pria Rai - BBC Newsbeat

Nominated: Sam Thompson - Hits Radio
Best New Radio Show, supported by Carver PR
GOLD: Room 5 - BBC Radio 4

SILVER: Shaun Keaveny's Community Garden Radio

BRONZE: Patrick Kielty - Banana Stand for BBC Radio 5 Live

Nominated: The Bald Builders Breakfast - Fix Radio

Nominated: Breakfast with Rima - BBC Radio Leeds

Nominated: The Heating and Plumbing Show - Fix Radio
Best News Coverage, supported by Radio News Hub
GOLD: The Smugglers' Trail - BBC Audio Documentaries Unit for Radio 4

SILVER: Stories of Our Times: The British Man Rescuing Ukrainians from Putin's War - Wireless Studios for The Times

BRONZE: Sitrep: Inside Ukraine's Capital - BFBS

Nominated: Good Ship BrewDog - BBC Scotland News

Nominated: Hits Radio Brand Network UK - Bauer Media Audio News

Nominated: The Open Secret - Sky News

Nominated: Sensemaker - Tortoise Media

Nominated: Slow Newscast - Tortoise Media

Nominated: Today, The Fall of Boris Johnson - BBC Radio 4
Best Speech Breakfast Show
GOLD: 5 Live Breakfast - BBC Radio 5 Live

SILVER: Today - BBC Radio 4

BRONZE: Good Morning Ulster - BBC Radio Ulster

Nominated: David Prever's Breakfast Club - BBC Radio Oxford

Nominated: talkSPORT Breakfast

Nominated: Times Radio Breakfast with Aasmah Mir and Stig Abell
Best Speech Presenter, supported by Presenterly
GOLD: Adrian Durham - talkSPORT

Dan Jones - This is History podcast

SILVER: Dan Snow - History Hit podcast

BRONZE: Helena Merriman - BBC Radio 4

Nominated: Elis James & John Robins - BBC Radio 5 Live

Nominated: John Pienaar - Times Radio

Nominated: Manveen Rana - Stories of our Times podcast

Nominated: Matt Chorley - Times Radio

Nominated: Nicky Campbell - BBC Radio 5 Live
Best Sports Show
GOLD: Moment of Truth - Folding Pocket Productions for BBC Sounds

SILVER: The Big Saturday Football Show - Forth 1 & The Hits Radio Network Scotland

BRONZE: Fast and Loose - Novel for Wondery

Nominated: Gameday Exclusive - talkSPORT

Nominated: The High Performance Podcast

Nominated: The Lionesses in Stoke - BBC Radio Stoke

Nominated: The Official Manchester United Podcast - Audio Always for Manchester United

Nominated: Rugby Breakfast Show - BBC Radio Scotland

Nominated: White & Jordan – talkSPORT
Best Coverage of an Event
GOLD: Mental Health Awareness Week - Absolute Radio

SILVER: The Discovery of Endurance - Dan Snow's History Hit podcast

BRONZE: The 2022 UEFA Champions League Final - talkSPORT

Nominated: The 2022 UEFA Champions League Final - BBC Radio 5 Live

Nominated: Birmingham Commonwealth Games 2022 - BBC Radio WM

Nominated: The FIFA World Cup Qatar 2022 - BBC Radio 5 Live

Nominated: The FIFA World Cup Qatar 2022 - talkSPORT

Nominated: Savannah Marshall fight coverage - BBC Radio Tees

Nominated: The UK Black Pride Time Capsule Podcast - AiAi Studios
The Comedy Award
GOLD: The Skewer: The Queen - unusual for BBC Radio 4

SILVER: Nature Table - BBC Studios for Radio 4

BRONZE: From The Oasthouse: The Alan Partridge Podcast, Series 2 - Baby Cow for Audible

Nominated: Cool Skool Sketch Show - unusual for KMFM

Nominated: Frank Skinner - Avalon for Absolute Radio

Nominated: IM1 The Worst Bits and More - Manx Radio

Nominated: NonCensored - Lead Mojo Productions

Nominated: Robin Ince's Reality Tunnel - BBC Studios for Radio 4

Nominated: Where There's A Will There's A Wake podcast - Sony Music Entertainment
Best Music Breakfast Show, supported by MusicMaster Scheduling
GOLD: 1Xtra Breakfast with Nadia Jae - BBC Audio for Radio 1Xtra

SILVER: Big John at Breakfast - Hallam FM

BRONZE: Radio 1 Breakfast with Greg James - BBC Audio for Radio 1

Nominated: The Hits Radio Breakfast Show with Fleur East, James & Matt

Nominated: Steve and Karen's Breakfast Show - Metro Radio

Nominated: The Zoe Ball Breakfast Show - BBC Audio for Radio 2
Best Music Entertainment Show, supported by PPL and PRS for Music
GOLD: Craig Charles - Audio Always for BBC Radio 6 Music

SILVER: My Life - Mighty Mouth Productions for Fun Kids

BRONZE: Throwback Throwdown - We Are Grape for BBC Sounds

Garry Spence - Clyde 1 and the Hits Radio Network Scotland

Hometime with Bush and Richie - Absolute Radio

Sounds of the 90s with Fearne Cotton - Somethin' Else for BBC Radio 2
Best Specialist Music Show
GOLD: For the Love of Hip Hop with Romesh Ranganathan - Folded Wing for Radio 2 and BBC Sounds

SILVER: Night Tracks - BBC Audio for Radio 3

BRONZE: National Prison Radio's Rock Show - Prison Radio Association

Nominated: ChillDaBeats with Phil Taggart

Nominated: Folk on Foot

Nominated: Free Flow - National Prison Radio

Nominated: Radio 1's Future Artists With Jack Saunders - Listen for BBC Radio 1

Nominated: Rocket Hour with Elton John - Apple Music Radio

Nominated: Selector Radio with Jamz Supernova - Folded Wing for The British Council
Best Music Special
GOLD: Deep Hidden Meaning Radio with Nile Rodgers - Apple Music Radio

SILVER: A Career in Music with Harmony Samuels - Cast Iron Radio for BBC Radio 4

BRONZE: Pass The Mic - Novel for KISS FM

Nominated: Access All Areas - Scala Radio

Nominated: Folk on Foot - The Musical Village of Pathhead, Midlothian

Nominated: Pride Not Prejudice - The Content Works for Greatest Hits Radio

Nominated: Short Stories: 200 Years of the Royal Academy of Music - Rhubarb Rhubarb

Nominated: Techno: A Social History - Cup & Nuzzle for BBC Radio 4

Nominated: Turn it Up: A Short History of Drum & Bass - Cup & Nuzzle for BBC Radio 1
Best Factual – Single Programme
GOLD: File on 4: Isobel's Story - BBC Radio 4

SILVER: Justice for The 97 - BBC Radio Merseyside

BRONZE: Nightwatch - BBC Scotland Productions for BBC Radio 4

Nominated: A Finding of Rape - Tortoise Media

Nominated: The Legacy of Terry Higgins - Audio Always for Virgin Radio Pride

Nominated: Unoffending Paedophiles: Clinical or criminal? - Media Storm Podcast

Nominated: Stories of Our Times: The British Man Rescuing Ukrainians from Putin's War - Wireless Studios for The Times

Nominated: The Story of the Four Aces - Virgin Radio UK

Nominated: Trans Truths: Living Authentically - This Is Distorted for Virgin Radio Pride
Best Factual – Series, supported by The Podcast Show London
GOLD: In Dark Corners - BBC Scotland Productions for Radio 4

SILVER: Who Killed Daphne? - Wondery

BRONZE: Assume Nothing: The Last Request - BBC Radio Ulster and Radio 4

Nominated: Disaster Trolls - BBC Radio 4

Nominated: Last Man Standing - Wireless Studios for The Times

Nominated: The Secret History of Flight 149 - Crowd Network

Nominated: Sonic Landscapes of Colour - Somin Somatic with BBC Radio Devon

Nominated: Ukraine War Diaries - Sky News

Nominated: Women of Country - Audio Always for Absolute Radio Country
Best New Podcast, supported by Audible
GOLD: Colouring In Britain - BBC Sounds Audio Lab

SILVER: Go Love Yourself - Crowd Network

BRONZE: Off The Beaten Jack - Jack Boswell

Nominated: Betwixt the Sheets - History Hit

Nominated: Good Ship BrewDog - BBC Scotland News

Nominated: Life After Prison - Prison Radio Association

Nominated: The Men's Room - talkSPORT

Nominated: Ukrainecast - BBC News for BBC Sounds

Nominated: Waterlands - 18Sixty for the Wildfowl & Wetlands Trust
Best Drama
GOLD: Dear Harry Kane - BBC Audio Drama London for Radio 4

SILVER: Algorithms - RooksNest for Audible

BRONZE: The Rez - Rezilience and Gen Z Media

Nominated: Dingus - Mike Cooter for Resonance FM

Nominated: Hilda - Forever Audio

Nominated: In the Beginning... - Social Broadcasts for Fun Kids

Nominated: Love Across the Ages - Naked Productions for BBC Radio 4

Nominated: The Nox - Coex Studios for Audible

Nominated: Our Friends in the North 1964 - Sparklab Productions for BBC Radio 4
Best Audiobook or Reading
GOLD: A Heart That Works by Rob Delaney - Coronet Books

SILVER: This Is Not A Pity Memoir by Abi Morgan - BBC Audio Books for Radio 4 and BBC Sounds

BRONZE: Voices in the Valley by Andrew Michael Hurley - BBC Audio Books for Radio 4

Nominated: Meanwhile Back On Earth by Oliver Jeffers - HarperCollins Publishers

Nominated: Piranesi by Susanna Clarke - BBC Audio for Radio 4

Nominated: The Woman In Black by Susan Hill - Granny Eats Wolf for Audible
Best Station Sound
GOLD: BBC Radio 1Xtra - BBC Popular Music Station Sound

SILVER: Fix Radio - Devaweb & Fix Radio

BRONZE: The FIFA World Cup Qatar 2022 on talkSPORT - Wireless Creative

Nominated: BBC Radio 1 - BBC Popular Music Station Sound

Nominated: BBC Radio 6 Music - BBC Popular Music Station Sound

Nominated: Clyde 1 Superscoreboard
Best Commercial Partnership, supported by AudioExperts
GOLD: Magic Radio Breakfast with On the Beach

SILVER: Free Flow sponsored by Shannon Trust - National Prison Radio

BRONZE: The Thursday Team Talk with Macmillan Cancer Support – talkSPORT

Nominated: A Life More Wild - 18Sixty for Canopy & Stars

Nominated: How We're Wired - Fresh Air, for The Bertarelli Foundation

Nominated: Living With Feeling - Rhubarb Rhubarb for The Centre for the History of the Emotions, Queen Mary University London
The Creative Innovation Award, supported by All In Media
GOLD: Fun Kids Mission Transmission

SILVER: Soundworlds

BRONZE: Radio 1's Murder Mystery - BBC Audio for Radio 1

Nominated: Absolute Radio Natalie

Nominated: National Prison Radio's Rock Show - Prison Radio Association

Nominated: Radio 3's Soundscape of a Century - BBC Audio for Radio 3

Nominated: Room 5 - BBC Radio 4

Nominated: Stories of the Stalked - Ventureland for Audible

Nominated: The Woman in Black - Granny Eats Wolf for Audible
The Grassroots Award, supported by BBC Sounds
GOLD: United Against Knife Crime - BBC Radio Merseyside

SILVER: Life After Prison podcast - Prison Radio Association

BRONZE: Ocean Youth Radio

Nominated: The Big Baton Challenge - BBC Radio Leeds

Nominated: Chaos at Calverton Lights - BBC Radio Nottingham

Nominated: Cost of Living Clinics - BBC Radio Oxford

Nominated: Footprints Podcast - Bathscape

Nominated: Surviving Society Presents: Material Crimes

Nominated: What The Pox? - Martin Joseph & Jamie Wareham for QueerAF
The Impact Award, supported by Wickes
GOLD: You, Me, and the Big C - BBC Radio 5 Live

SILVER: In Dark Corners - BBC Scotland Productions for Radio 4

BRONZE: Justice for Joseph - Hits Radio Manchester

Nominated: The Cruelty: A Child Unclaimed - BBC Scotland Productions for Radio Scotland and BBC Sounds

Nominated: The High Performance Podcast

Nominated: Hits Radio Pride: Faith, Sex & Me - Loftus Media

Nominated: Looking for Esther - That Old Chestnut Productions and Big Light, for Spotify

Nominated: National Prison Radio

Nominated: Power Lines: From Ukraine to the World - Message Heard for The Kyiv Independent
Best Local Show, supported by RCS
GOLD: Pulse 1 Breakfast with Mylo & Rosie

SILVER: Justin Dealey - BBC Three Counties Radio

BRONZE: The Big Saturday Football Show - Forth 1 & The Hits Radio Network Scotland

Nominated: Footprints Podcast - Bathscape

Nominated: Gary Philipson - BBC Radio Tees

Nominated: The Graham Liver Breakfast Show - BBC Radio Lancashire

Nominated: Hits at Breakfast with JD and Roisin - Free Radio

Nominated: Ryecast - Real Life Stories From Rye

Nominated: The Very Best of Pete Price
The 2022 Special Award, following the death of HM The Queen
GOLD: Daily News Reportage - James Bryant & Jonny Dymond, for BBC News

SILVER: The Skewer: The Queen - unusual for BBC Radio 4

BRONZE: The Second Elizabethan Age - Tortoise Media

Nominated: All The Queen's Horses - talkSPORT

Nominated: BBC Network Radio

Nominated: BBC Newsbeat

Nominated: The Final Journey of Queen Elizabeth II - Bauer Media Audio UK News Team

Nominated: FT Weekend - Financial Times

Nominated: Sitrep: King Charles III, Commander in Chief - BFBS
Community Station of the Year, supported by Markettiers
GOLD: Vectis Radio - The Isle of Wight

SILVER: Bro Radio - The Vale of Glamorgan

BRONZE: Pride Radio - North East of England

Nominated: Alfred - Shaftesbury

Nominated: Shine Radio - Petersfield

Nominated: Wycombe Sound - High Wycombe
The John Myers Station of the Year, supported by News Broadcasting
GOLD: Clyde 1

SILVER: BBC Radio Merseyside

BRONZE: BBC Radio Ulster

Nominated: BBC Radio Northampton

Nominated: Forth 1

Nominated: Wave 105
UK Station or Network of the Year, supported by Arqiva
GOLD: BBC Radio 4

SILVER: talkSPORT

BRONZE: BBC Radio 6 Music

Nominated: BBC Radio 1

Nominated: Fun Kids

Nominated: Times Radio
Radio Times Moment of the Year
GOLD: Tony Livesey won't say goodbye to Dame Deborah James on BBC Radio 5 Live

SILVER: Fun Kids' Mission Transmission

BRONZE: Liz Truss BBC Local Radio interviews

Nominated: Boris Johnson resigns, on the Today Programme on BBC Radio 4

Nominated: Brenda Edwards sings to her late son Jamal on his birthday, on BBC Three Counties Radio

Nominated: England win EURO 2022, on talkSPORT

Nominated: Kate Moss on Desert Island Discs, on BBC Radio 4

Nominated: Nicky Campbell talks about childhood abuse, on BBC Radio 5 Live

Nominated: Scotland vs Ukraine show opener, on Clyde 1

Nominated: The Resignation of Nimco Ali, on Times Radio